CH Ipolani & ChriMaso's Pretty Little Picture
"Kunani"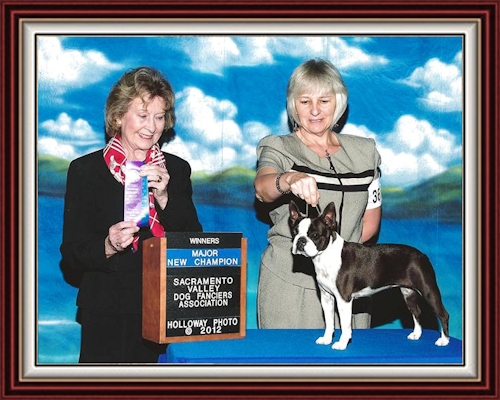 Kunani is the granddaughter to Serene, my South African import from my dear friends Shaun & Crystal Graham of Togra Boston Terriers. She is a lovely little bitch with a gorgeous, soft expression. I just love her dark, round eyes, and her even, fluid movement - both of which she got from her sire, Butler. And Kunani isn't just another pretty face, she's also as sweet as can be. The precious, loving, and playful personality she acquired from her dam, Doodles. She took time out of her show career to mature and have a litter of puppies, but will be hitting the ring in Northern California again this spring/summer.

Kunani is also a very special girl to me as she was co-bred and co-owned with a very close friend of mine, Blair Barrett of Ipolani Boston Terriers in San Jose, CA. The reason she's so special is not only because she's beautiful, but because Blair passed away unexpectedly in early 2012, which was a horrible shock to everyone. He left a gaping hole for all those who knew and loved him. Kunani was Blair's first homebred show Boston and he had shown her and got her first 6 points in the Bred By Exhibitor (BBE) class, so as co-breeder and owner, and in loving memory of Blair, I made a commitment to complete her championship title as he had started – all as BBE. I started showing her in August and she finished easily by the end of October in some very stiff CA competition. She blessed me with a wonderful gift by giving birth to Tripp on my birthday. What a precious present!!! Kunani is now retired and living a VERY spoiled life with Tequila and the Neff family in SoCal.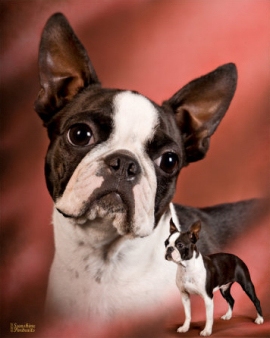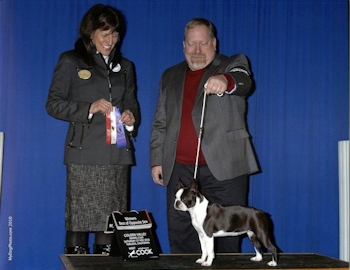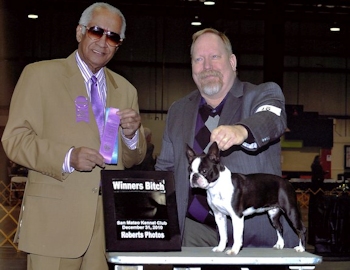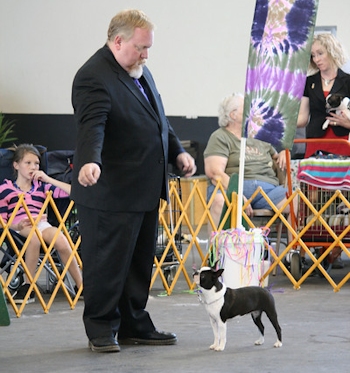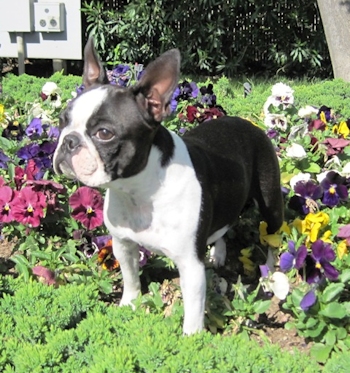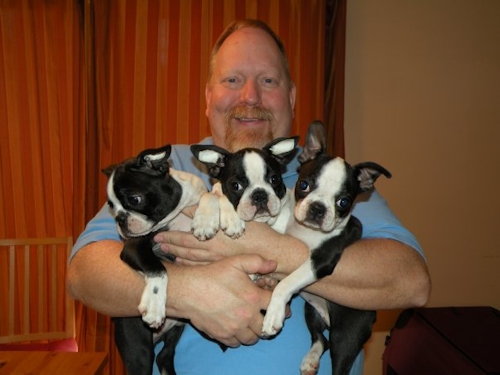 Blair with Kunani (center) and littermates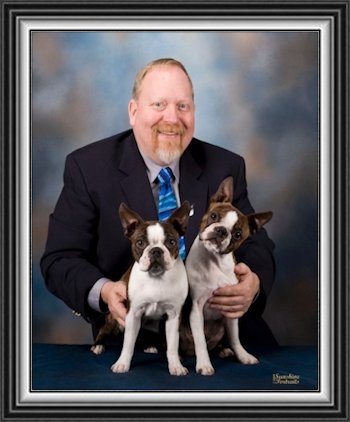 In loving memory of Blair
Blair holding his boy, Laki (on his left), and Kunani's dam, Doodles (on his right)

Kunani's Pedigree