CH Tequila Sunrise III
"Tequila"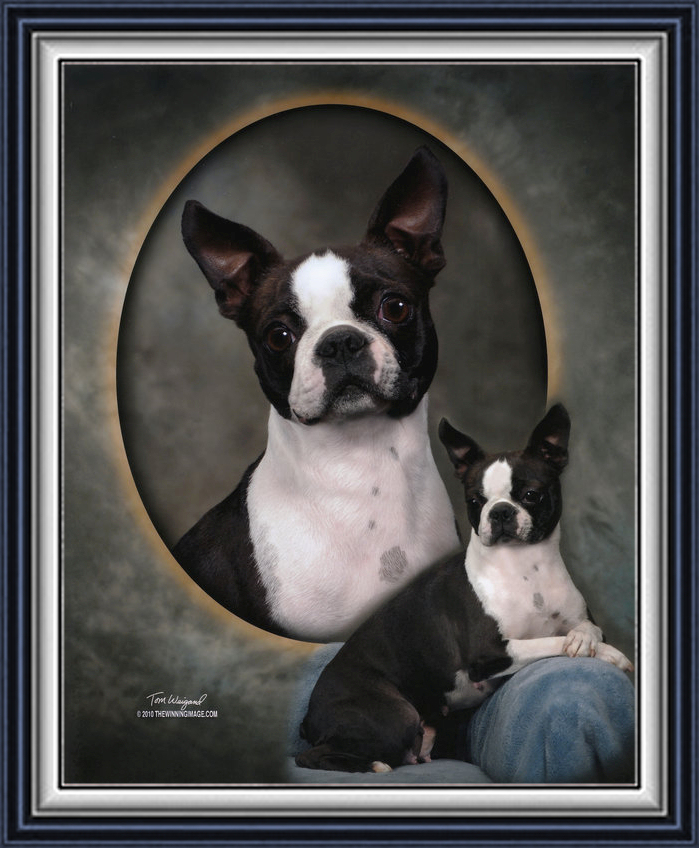 Tequila is now enjoying retirement and being even MORE spoiled than she was before moving to her loving forever family, the Neffs, in Simi Valley, CA. She now spends her time being pampered and treated like the princess she is. Her hobbies include being dressed up, carried around, and lounging on special blankets. She also graces Roxy (her Boston cousin) and the cat with her presence from time to time. She truly is a special girl and enjoying retirement with a special family.

Sweet Tequila is a feminine beauty from Italy. She is a dainty, little girl with the grace and style we love to see in a Boston's movement. This, combined with lovely structure, soundness in mind and body, and a loving, gentle personality has made her a winner in the ring and earned her championship.

I imported Tequila from my friend, Paola Belletti, of Notting Hill Kennels who is the owner of her sire, Multi-CH WyNot Mountain Maverick (in 2009, he was the most titled Boston in the world with more than 18 titles across Europe) and the breeder of the dam, Notting Hill Cuba Libre. Tequila's breeder is Esther Rascaglia of Milano Boston Terriers.

In addition to being an AKC champion, Tequila has also produced three gorgeous show pups: Dash from her first litter completed her AKC championship quickly just one month prior to Tequila finishing her title; Flute is from Tequila's second (and last) litter and she is also well on her way to obtaining her championship (currently, she needs only her 2 majors to finish); and we are hopeful that Tibbs, Flute's litter brother, will be shown in the near future. Tibbs is co-owned and loved by Jodie Hagman of Julibra's Boston Terriers and her mother, Cathy Smith. Good luck with him!

Tequila's Pedigree
Multi-Euro CH Wy Not Mountain Maverick
CH Kennedy's Keepsake O'Renea
CH Kennedy's Bravo Play'N For Keeps
Renea's Jasmine
CH WyNot Small Town Gem
CH Renea's Real Tyme
Luke N Davane WyNot Lucky Charm
Euro CH Notting Hill Cuba Libre
Euro CH Jerome
Euro CH Cheyenne-Roller Rainbow
Guili
Eclipse's Masterpiece
CH Eclipse's Shadow of Fortune
Little Sassifrass Loos