Puppies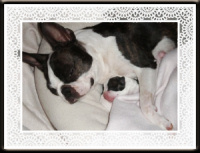 How wonderful that you are interested in acquiring a Boston Terrier puppy. Looking for just the right puppy can take you down a wonderful path of learning, meeting new people, and playing with furry, little 4-legged love bugs. Please know that I breed in hopes of producing healthy, show quality puppies bred to the Breed Standard and that this website is not a forum to sell puppies.

I breed very selectively and on an extremely limited basis – usually only one or two litters per year. When I breed, it is in an effort to produce a new show puppy for me to show. Since few puppies are truly show puppies, there are usually companion puppies available in each litter; however, ALL companion puppies are sold with limited registration on a spay/neuter contract with NO EXCEPTIONS.
Latest Litter
GCH ChriMaso's Are We There Yet? x CH ChriMaso's Love on the Run
**Born Oct 13, 2013**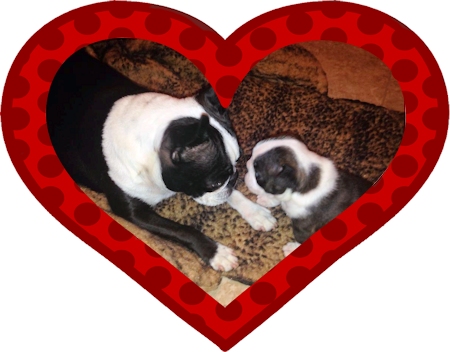 Whether you are looking for a beautiful show puppy or a loving companion puppy, please feel free to download my Puppy Application. It is a form which will allow you to fill in the information, then save on your computer using the "Save As" function, which you can then simply email to me at your convenience. Of course, you are welcome to print it out and complete it manually and the mail or fax it if you prefer. Adobe Reader is required - if you don't have it, you can download it for free by clicking here -> Adobe. Upon review and approval, I will notify you that you are on my waiting list.

Since Bostons have very small litters (usually only 2-4), I highly recommend you get on several breeders' lists, so don't be shy about asking to be on more than one! And generally, show/performance homes have priority; however, if you have questions concerning Bostons, please feel free to contact me. I am always happy to help provide information to anyone interested in learning more about these loving creatures!
If you are looking for a well bred Boston puppy make sure you buy from a reputable breeder - a good place to meet reputable breeders is at dog shows. To find a dog show in your area and research the breed, visit our Other Links page. Also, be sure to check our Available Now page to see if we have any puppies available.