Am/Can CH ChriMaso's Doodlebug Kiss for Ipolani
"Doodles"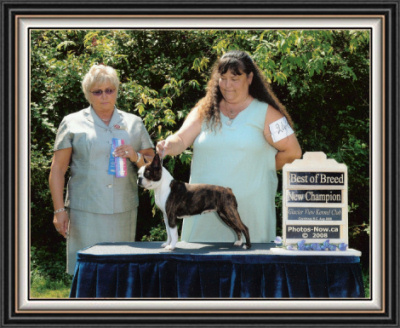 Doodles is the product of my South African import girl, Serene, and my French import boy, Troy from my "Insects" litter. She is Serene's first champion, and a lovely one at that! I showed her to her AKC championship from the BBE class in just one show season, in stiff Northern California competition. Following that, my good friend, Teresa Brereton of Waylin Boston Terriers finished her Canadian title in just a couple weekends of showing. Her exuberant personality, alertness in the ring, confident nature, and fluid movement made her a favorite of the judges.

Doodles, lovingly referred to as Doots, is not only a stunning example of the breed, but she is a silly, funny, and VERY happy girl who never has a bad day. To Doots, EVERY day is the BEST day EVER. I am blessed to co-own Doodles with my close friend, Blair Barrett, of Ipolani Bostons.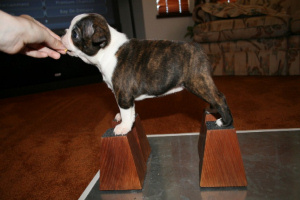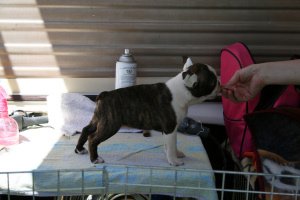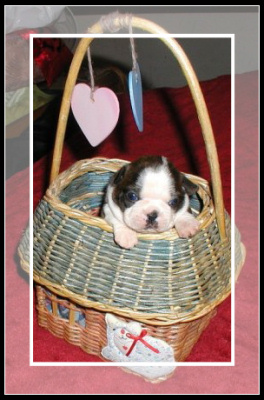 Doodles' Pedigree
Brad Pitt du Grand Fresnoy

(French Import to USA)

European CH Au Feu Les Pompiers du Grand Fresnoy

(France)

European CH Devils Rock Reach Love

(France)

European CH Vite Fait Bien Fait du Grand Fresnoy

(France)

European CH Krasna Krasna Kanara

(France)

European CH P and Rs' Born in the USA

(CMKU)
Alexis Bospel (CMKU)

Togra ChriMaso Crystal

KUSA CH Dancers Ace of Alamana

(So Africa)

KUSA CH Bonberg War Dance

(So Africa)
Mejane Zorro Mask of Dancers (So Africa)

KUSA CH Togra Allardi

(So Africa)

KUSA CH Bonberg Whiff O'Whiskey of Henmar

i (So Africa)

KUSA CH Riders Red Lite Lady

(So Africa)