Am/Bul/Can/FCI/Fr/It/Lux/Mace/Rom/Slov/SoAfr/Swiss
CH ChriMaso's Midnight Mai Tai
"Taison"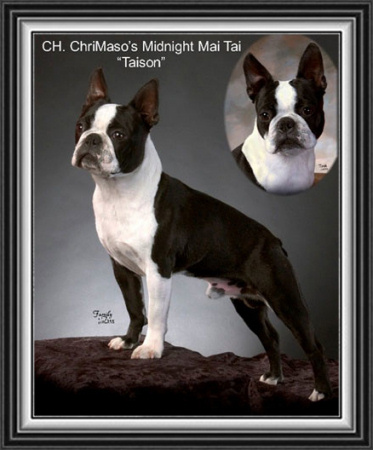 Taison is now retired and living the life of luxury here at home in the country. Now that his show career is over, his favorite hobbies include chasing deer and wild turkey off our property, following me from room to room, snuggling with me every chance he gets, and of course, pigging out on any and all chewies we'll give him.
Taison is from my "Drinks" litter, and is my first bred by exhibitor champion. He finished VERY quickly at less than 10 months of age in only 4½ weekends AND on top of that, he was awarded Best of Winners (BOW) EVERY time he won. During his first two weekends out as a special, he was awarded Best of Opposite Sex (BOS) and Best of Breed (BOB).

Taison is a silly boy who loves to run and play. Playing in the water is one of his favorite pastimes! He adores children, loves older folks, and has never met a stranger. EVERYONE is his friend! He is a joy to have at home and in the show ring. His beautiful reach and drive, unwavering topline, showy attitude, dark eyes, and expressive face really make him stand out in the ring among his competitors, but his gentle and loving personality make him stand out at home with family and friends.

After completing his AKC championship in such short order, he went to Canada and became a Canadian champion in only five shows, during which time he took BOB twice (over the #2 and #4 Bostons in Canada) and was even awarded a Group 3 placement as well. I am very proud of him and of Teresa Brereton of Waylin Boston Terriers for doing such an excellent job of showing and caring for him in Canada.

He had so much fun travelling to Canada that he decided to become a world traveler! He went to France and under the care and direction of Marie-Helene' Combis of Le Grand Fresnoy Kennels, Taison has been awarded championship titles in France, Bulgaria, Luxemborg, and Macedonia, as well as earned certificates towards his FCI International championship. Many thanks to Marie for caring for my boy in my absence!

Next, it was off to stay with my VERY DEAR friend, Paola Belletti of Notting Hill Kennel, in Italy where he continued his show career in other European countries. While there, he accumulated more titles (FCI International title, Italy, Romania, Slovenia, and Switzerland) and has points towards additional titles in Belgium, Croatia, Monte Carlo, Nordic, Poland, and San Marino. Additionally, he was invited to Crufts where he competed in March 2008. Alas, he did not win, but I flew over and it was a wonderful experience to be at the world's largest dog show. I cannot thank Paola enough for all she has done with and for Taison and for the loving attention and care she has given him. She loves him dearly and I know she misses him.

Taison then flew of to South Africa for a brief visit with my good friends, Shaun & Crystal Graham of Togra Boston Terriers, where he earned the South African (Kennel Union of South Africa - KUSA) title.

So far, he has been awarded 12 titles on three different continents and is the most titled Boston in the U.S. In fact, he's the second most titled Boston in the world – second only to the sire of my Italian import, Tequila. He has done enough traveling and is now back at home for good. No more frequent flyer miles for my boy…just relaxation and fun from now on!

In addition to traveling the world, he has made a wonderful contribution to the Boston Terrier gene pool. He has sired champions on all three continents with champions in Italy, France, South Africa, and the U.S. Now he can relax and concentrate solely on the U.S. ;)














He is available for romance on a limited basis to approved bitches. You may view his certifications online at OFA. Contact me via email to inquire.
| | |
| --- | --- |
| Taison modeling with a South African star | Taison relaxing on the floor |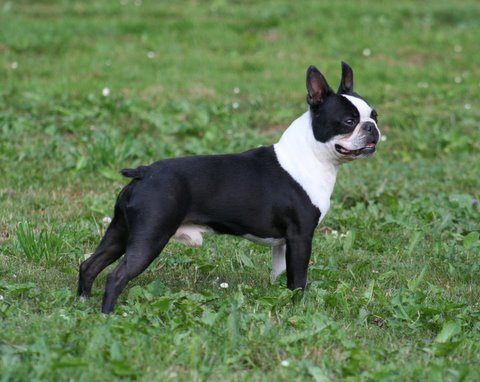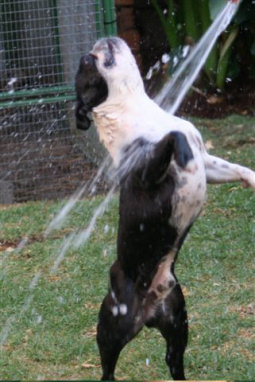 | | |
| --- | --- |
| | Who could resist that face? |

Taison's Pedigree
Am/Int'l CH Cool's Big Bang Theory
CH Keon's C and K's Joint Venture ROM

Charnette One Man Band OKeon

Keon's Secretary of State

CH Cool Krak-Mont Dream
CH Krak-Mont's Final Impression
CH Keon's Independent Spirit
Alessi's Buster Brown
Rocky's Little Rowdy
Rosie Budde
Wheezy Louise Bettencourt
Can. CH. Elite's For Whom The BellTols
Bettencourt's Sugar Babe