GCH ChriMaso's Birthday Surprise For Tered
"Confetti"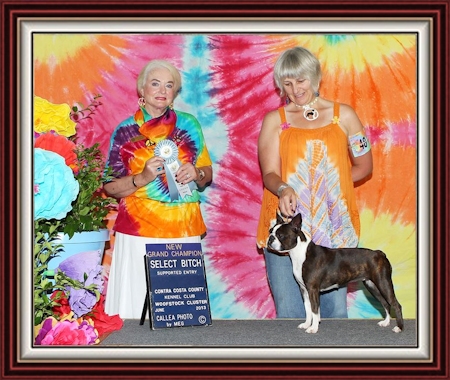 Confetti is my fourth generation homebred bitch coming down from Ruthie and she is our "party" girl. Believe me - she takes that role very seriously as she LOVES to "dance" around and party it up! She is co-owned with my dear friend, Terri Burley-Hammond of Tered Great Danes. Yes, she has Great Danes, but will evidentially have some little Bostons too (following in my footsteps, obviously....). Confetti is a lovely blend of both parents, getting the spunky, outgoing and alert personality of her dam, Tiffany, and the movement and structure of her sire, Butler.
Confetti made us very proud right off the bat. At her first weekend out, which was a small, 4-day cluster, she was RWB the first day, WB the second day, RWB again on the third day and then wrapped it up nicely on the last day going WB/BOW/BOS (a big thank you to Erin Piercy for taking her for BOW competition so I could show her dam as a special). Along the way, while she was earning her title, Confetti also garnered a Best BBE Group 1 and later a BOB from the classes over multiple, top-ranked specials by breed judge Nancy Johnson, so to say that she did her parents proud is a statement of truth.

She is now my third GCH, following in her dam Tiffany's footsteps, who was my first. I hope she continues to carry on the legacy of her parents and produces lovely, healthy, and typey babies in the future.

Confetti's Pedigree