Am/Can CH ChriMaso's Lucky Copper Coin
"Penny"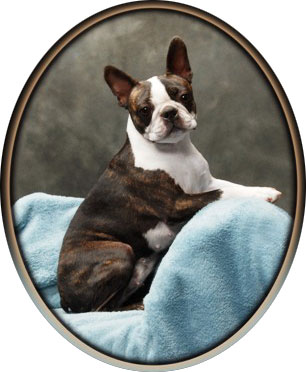 Penny is a second generation breeding for me from my "Elements" litter.. Her dam is my Belle and her granddam is my Ruthie. All are tremendously loving girls.
Penny is retired now and is co-owned and happily lives in the lap of luxury with her daughter, Luci (from Penny's last litter) and Jan & Marvin Chisholm, who adore both these girls.

Penny is one of my most precious girls. She finished her Canadian championship with ease in just a few shows!!! What a beautiful girl she has become!!! She is a great mother too, her produce entered the ring beginning early summer 2008 and she now has two champions to her credit (Sid & Tiffany) and hopefully a third on the way (Karma will be her next, and last, show offspring).

Penny finished her AKC championship with a BANG by taking a FIVE point major over more than 20 other bitches to complete her championship title - all from the Bred By Exhibitor class!!! I am very proud of my little girl.

During her show career, Penny took Best of Breed at Sir Francis Drake on Saturday, September 18th and follows it up with ANOTHER BOB WIN on December 8th at the San Mateo Kennel Club over top-ranked specials!! More points taken on March 19th at the Skyline Dog Fanciers' show in San Mateo by going WB, BOW and Best BBE and a BBE Group 4. And again on March 25th at the San Mateo Kennel Club show in Vallejo.

Penny surprised us again by going BOB over a top 10 Boston again in December in San Mateo. What a wonderful award by Judge Geoff Cornish. I could not have asked for a nicer finish to a wonderful year in the show ring. To make all of these wins even more special, Penny never misses an opportunity to love on any one. Her personality and temperament can NOT be beat! I just love her to death and could not be happier to have found such a special forever home for her (especially since I get to see her regularly too)!
Wasn't Penny a real cutie as a 6 week old puppy???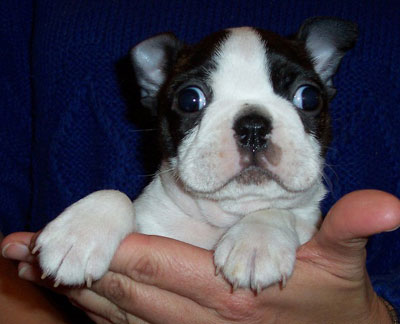 Penny posing after one of her Best of Breed wins.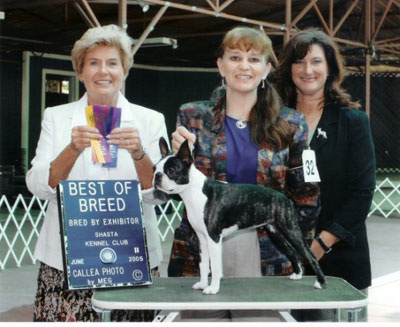 Penny enjoying retirement with her daughter, Luci!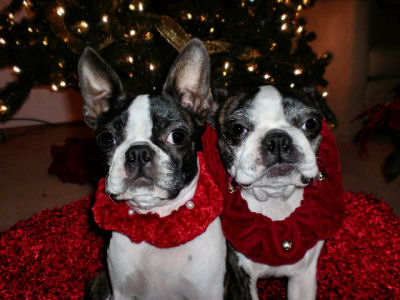 Penny's Pedigree
CH KC's Lil Joevee Too
CH Gabriel's Lil Bon Joevee
CH Top Shelf Sweet Lou
CH J And S Gabriel's Lil Angel
KCs Dinah Wont Your Blow
CH Flashpoints Justice For All
Genteel's Dinah Shore Is Hot
ChriMaso's JingleBell Casino
CH Casinos Here I Come V Knotts
BISS CH Yoki-En's Sir Andrew at Mory's
Casinos Madison
Int'l CH ChriMaso's Ruth ala Loretta
Alessi's Buster Brown
Wheezy Louise Bettencourt